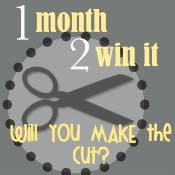 Like I don't have enough to do already... I am now a competitor in the One Month to Win it competition - yeah! I love it and it's already starting tomorrow.
I crochet this skirt for Angel - she chose the colors herself. She also wants a purple heart on it!!! It's so easy to make, just round and round and round again.
It's a great skirt for summer, though - crochet cotton always make me think of summer. And we're finally starting to feel the warm weather here. I just love summer -can't be warm enough.
Tomorrow I'm teaching the pre-schoolers Sunday school-class - will teach on the topic - Who loves you no matter what? Found this great web-site -
What is Orange
- they have so much great stuff for Sunday school. Have a great Sunday, and make sure to vote...
Be blessed, Tone