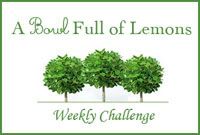 Today I'm extra grateful for other blogs that give me the exact things I need in my personal life.
I am not a very organized person, but I would like to get there.
A Bowl Full of Lemons
is such a blog - she is so organized and she shares it freely with others.
This week's challenge is to organize your finances - and this is something I need. At New Years I made a calender for all of 2011 that will give me one new habit every month - January's habit was to do my dishes every day. It takes 21 days to form a new habit, so by 2012 I'm hoping I have 12 new habits to help me have an organized home.
And March's habit is to organize my finances - to be financially aware, to save and really see how I spend my money.
And when I opened my blog today, I saw that this is exactly the weekly challenge
A Bowl Full of Lemons
has today - I am grateful.
I will follow everything she does (and hopefully win her give-away), and next weekend I will probably be even more grateful.
I am also extremely grateful for spring.
Have a happy and grateful Sunday. Be blessed, Tone