WOW - am I excited today - I have the best of guests today - lovely liZ from
Simple Simon and Company
. liZ and her sister-in-law Elizabeth should be well known by everybody now, after winning and taking over
Project Run and Play
. They are both super talented, but the best part (I think) is that they are so nice - they are the kind of people I would like to have in my neighborhood or as my close friends.
This dress of theirs is my daughter's favorite and she wants it as a Christmas dress
Here is liZ:
Hi! I am liZ from over at
Simple Simon and Company
and we are super excited to be part of Tone's thirty days of tutorials. (What an ambitious undertaking!) Today I'll be sharing a project that anyone can attempt and comes in handy for a quick homemade gift for the holiday's or the hostess of a holiday party. It is my version of a dish towel apron.
Here's what you'll need: #1. A standard sized dishtowel. #2. 4 pieces of fabric cut into strips measuring 2 and 1/2 inches wide and 44 inches long. #3. Any flowers trim etc. you'd like to embellish your apron with.
Step #1. Sew two of the strips wrong sides together along one of the long sides. Then, keeping wrong sides together sew closed the other long side. Now repeat this process with the remaining two strips of fabric.
Step #2. Turn each of the long strips of fabric right side out.
Step #3. Iron each of the strips of fabric so that they lay flat. Step#4. Fold under each end of both strips and iron flat.
Step #5. Top stitch around the perimeter of both strips.
Step #6. Attach one strip to each side of the top, back of your dish towel. (The strips have now become your apron ties.) Step #7. ***Optional*** Attach what ever trim, flowers, ect. that you would like to your apron.
And...you're done! Easy huh? I love this project. (And I don't think that they even need embellishments.) It an apron that is simple to make and practical to use. (Because the apron is made from a dishtowel it washes well and I never worry about getting them dirty or stained.) So that's that and unfortunately it's time for me to quit playing on the computer, put on my apron and get my house straightened up for the day. Thanks again Tone for letting us join in the fun. liZ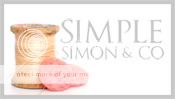 Thank you so much, liZ - I love it - and it's the perfect Christmas present!